Giving Machines of The Church of Jesus Christ of Latter-day Saints' #LightTheWorld campaign are opening in 17 states in the U.S. and five other countries around the world. Eight cities will be visited by mobile versions of the giving-focused vending machines.
The first Giving Machines opened Wednesday, Nov. 16, in Las Vegas, Nevada, and Kansas City, Missouri. On Thursday, Nov. 17, the Giving Machines opened in the Philippines.
Every year when they are installed, the Light the World Giving Machines are hard to miss. They're huge, bright red vending machines set up in very public spaces, often with long lines and crowds of people gathered around waiting to take photos or make their donation. And with all that noise, it's easy to see why they catch the attention of news media and celebrities. last year, Dan Reynolds of Imagine Dragons unveiled a machine in Las Vegas, and Drew Barrymore praised the NYC machines on her talk show.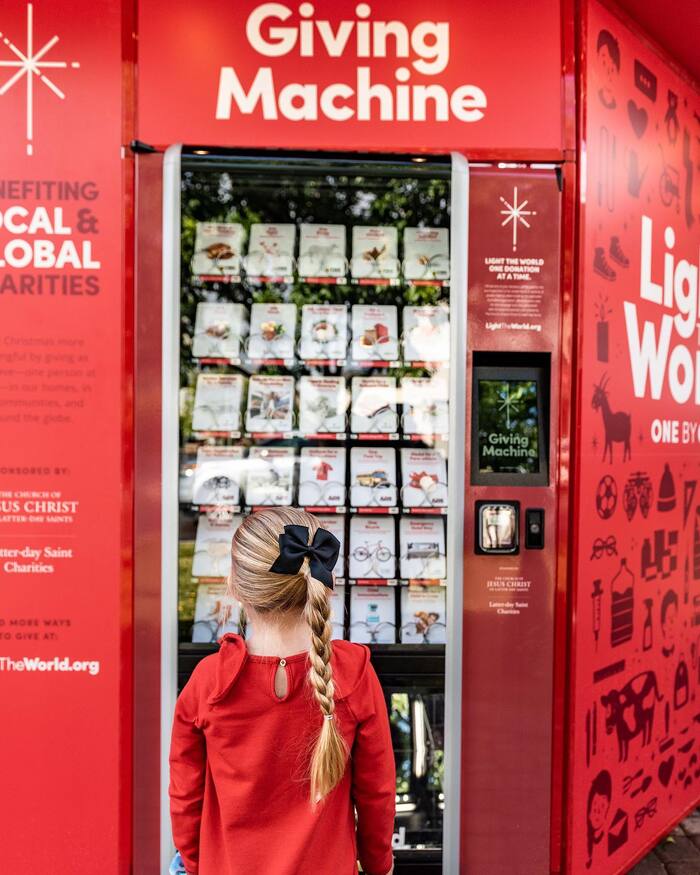 The actor Paul Rudd, actor Eric Stonestreet, and NFL tight end Travis Kelce, and Kansas City Chiefs' head coach Andy Reid have all shared videos voicing their support for the Giving Machines and encouraging fans and other Kansas City natives to get involved and donate.
Chiefs' head coach Andy Reid explains how much he and his family love Christmas in Kansas City and have started new holiday traditions, including the Giving Machines. "Imagine going to a vending machine and being able to purchase food, clothing, supplies, or medicine for people right here in our Kansas City community. … I think it's so great that we can teach our grandchildren that it is so much better to give to others than to receive."
In his video, actor Paul Rudd, who grew up near Kansas City, shared, "You can buy cool items, and it helps support charities—Children's Mercy Hospital [in Kansas City] being one of them—but places all over the world. They're big and they're red! We all love big and red in Kansas City—Looking at you, Andy Reid."
Actor Eric Stonestreet of Modern Family fame who is also a Kansas City native said in his video that donating to the Giving Machines is a great way to be on Santa's nice list this year. "Go down, make a donation, [and let's] prove that Kansas City is the greatest city in the world!"
Where the mobile Giving Machines are now
Arizona
Flagstaff, Arizona, at Heritage Square until Dec. 1.
Open Giving Machines
United States
Kansas City, Missouri, at Crown Center
Las Vegas, Nevada, at Downtown Summerlin
Gilbert, Arizona, at Water Tower Plaza
Honolulu, Hawaii, at Pearlridge Center
International
Manilla, Philippines, at Festival Mall Alabang
Complete list of Giving Machine locations by area
The mobile Giving Machine in Arizona will be available in:
Flagstaff at Heritage Square from Nov. 17-Dec. 1
Address: 22 E. Aspen Avenue, Flagstaff, AZ 86001
Gila Valley at Safford City Hall from Dec. 3-15
Address: 717 W Main St, Safford, AZ 85546
Tucson at Park Place Mall from Dec. 17-Jan. 1
Address: 5870 East Broadway Blvd. Tucson, AZ 85711
The mobile Giving Machine in the Southeast U.S. will be available in:
Here are the Giving Machines locations and opening dates listed by state. Donations will be accepted through Jan. 1, 2023.
Arizona
Gilbert at Water Tower Plaza beginning Nov. 18
Address: 45 W Page Ave, Gilbert, AZ 85233
Glendale at Murphy Park beginning Nov. 22
Address: N 58th Ave, Glendale, AZ 85301
California
Colorado
Denver at Writer Square beginning Nov. 26
Address: 1512 Larimer St, Denver, CO 80202
Hawaii
Honolulu at Pearlridge Center beginning Nov. 19
Address: 98-1005 Moanalua Rd, Aiea, HI 96701
Missouri
Kansas City at Crown Center beginning Nov. 16
Address: 2450 Grand Blvd Suite 200, Kansas City, MO 64108
Nevada
Las Vegas at Downtown Summerlin beginning Nov. 16
Address: 1980 Festival Plaza Dr, Las Vegas, NV 89135
New York
New York City at Rockefeller Center beginning Nov. 29
Address: 45 Rockefeller Plaza, New York, NY 10111
Tennessee
Texas
Houston at Bravery Chef Hall beginning Nov. 21
Address: 409 Travis St. Suite A, Houston, TX 77002
Utah
Orem at University Place Mall beginning Nov. 22
Address: 575 E University Pkwy, Orem, UT 84097
Salt Lake City at City Creek Center beginning Nov. 22
Address: 50 S Main St, Salt Lake City, UT 84101
Washington
Washington. D.C.
Washington, D.C., beginning Nov. 30 at a location to be determined
Here are the locations and opening dates of the Giving Machines available internationally, listed by country. Like the American machines, they will close after Jan. 1, 2023.
Australia
Brisbane beginning Nov. 26 at a location to be determined
Canada
Calgary, Alberta, at South Centre Mall beginning Nov. 29
Address: 100 Anderson Rd SE, Calgary, AB, T2J 3V0
Guatemala
Guatemala City at Pradera Vistares beginning on Dec. 1
Address: Centro Comercial Pradera Vistares, Diagonal 1; 9 36-01 zona 12, sontano 1, local S10 Guatemala, 01066, Guatemala
Guatemala City at Pradera Concepción beginning on Dec. 1
Address: Pradera concepción, Carr. Condado Concepcion, Guatemala
Mexico
Mexico City at Plaza Satélite beginning on Nov. 21
Address: Cto Centro Comercial 2251, Cd. Satélite, 53100 Naucalpan de Juárez, México
Mexico City at Centro Comercial Perisur beginning on Nov. 21
Address: Anillo Perif. 4690, Insurgentes Cuicuilco, Coyoacán, 04500 Ciudad de México, CDMX
Philippines
Cebu City at Ayala Center Cebu beginning Nov. 25
Address: Archbishop Reyes Ave, Cebu City, Cebu, Philippines
Manila at Festival Mall Alabang beginning Nov. 17
Address: Filinvest Corporate City, Commerce Ave, Alabang, Muntinlupa, Metro Manila, Philippines
More information can be found at LightTheWorld.org. There is also a link for those who want to participate online at LightTheWorld.org/give.
Source: https://www.ldsliving.com/actors-paul-rudd-and-eric-stonestreet-plug-giving-machines-in-kansas-city/s/11147