It was widely reported that Apple would not launch new iPhones, but would instead focus on the Apple Watch Series 6, the new iPad Air 4 and its Apple One service package. However, one thing that caught people off guard was Apple announcing that iOS 14 would be released to the public today, September 16 – just 24 hours after the event.
This news came as a shock because Apple rarely releases a major software update just a day after announcing new products. Regardless, it was a happy surprise for most Apple fans who can't wait to get their hands on the latest iPhone operating system.
But one thing that Apple did not clarify was what time iOS 14 would be released today. Based on the company's actions in the past it generally releases major iOS updates at 10am PT. But how does this translate into your local time?
The assumptions are:
Hawaii: 7 am
Alaska: 9:00 am
California and the rest of the Pacific coast, Arizona, Vancouver: 10 am
Colorado, Wyoming, Montana: 11 am
Texas, Missouri, Wisconsin: 12 hours
New York, North Carolina, Florida, Toronto: 1:00 pm
Brazil: 2:00 pm
United Kingdom, Portugal: 6:00 pm
Germany, France, Spain, Italy, Norway, Sweden, Algeria, Angola: 7:00 pm
Moscow, Finland, Turkey: 8:00 pm
India: 10:30 pm
China, Singapore, Hong Kong: 1 am, 17 September
Perth, Australia: 1 am, 17 September
Japan, South Korea: 2 am, 17 September
Adelaide, Australia: 2:30 am, 17 September
Sydney, Australia: 3 am, September 17
New Zealand: 5 am, 17 September
In addition to launching iOS 14, Apple will also launch iPadOS 14, tvOS 14 and watchOS 7 at the same times today.
Offering a major update to the home screen with redesigned widgets and the app library, new ways to use apps with app clips and powerful updates to messages. IOS 14 is available today as a free software update.
Redesigned home screen pages
New widgets present timely information quickly and can be added in different sizes to any page on the home screen.
New compact design for incoming calls and Siri
FaceTime, Siri's connections and interactions take on a completely new compact design that allows users to stay in the context of what they are doing. With Picture-in-Picture support, iPhone users can now watch a video or make a FaceTime call while using another application.
IOS 14 offers a brand new compact design that allows users to perform various tasks while receiving calls, asking Siri questions or watching videos.
App clips bring new ways to discover and use apps
An App Clip is a small part of an application designed to be discovered at the point of need. Application clips are associated with a specific product or business and are loaded in seconds to complete a specific task, such as ordering food to go or filling the car with gasoline. They can be easily discovered and accessed by scanning a new App Clip code designed by Apple, 1 or via NFC tags and QR codes, or shared in Messages or Safari, all with the security and privacy expected from applications.
Powerful message updates
Messaging is critical to communicating with friends and family, and it's now easier to stay connected and quickly access important messages. Users can pin conversations to the top of their message list, easily follow animated group conversations via in-line mentions and responses, and further personalize conversations by defining a group photo using an image or emoji. The new Memoji options in Messaging are even more inclusive and diverse with additional hairstyles, hats, facial covers and more.
Greener ways to explore and new guides on Maps
Maps makes it easy to navigate and explore with new directions for bicycles, electric vehicle routes and selected guides. Bicycle directions take into account elevation, how busy a street is and whether there are stairs along the route. Electric vehicle routing adds recharge stops along a planned route based on the vehicle's current charge and charger types.
More transparency and control with expanded privacy features
Now users can choose to share their approximate location with application developers, rather than their precise location when granting access to an application's location, and gain even more transparency in an application's use of the microphone and camera.
Enhanced listening experience for AirPods
AirPods and AirPods Pro gain powerful features with iOS 14. Spatial audio with dynamic head tracking brings a theater experience to AirPods Pro. By applying directional audio filters and subtly adjusting the frequencies that each ear receives, sounds can be placed almost anywhere in a space to provide an immersive listening experience.
Additional iOS 14 features
Translator is designed to be the best and easiest app to translate conversations, offering fast and natural translation of voice and text between 11 different languages.6 On-device mode allows users to experience the offline application features for private voice and text translation.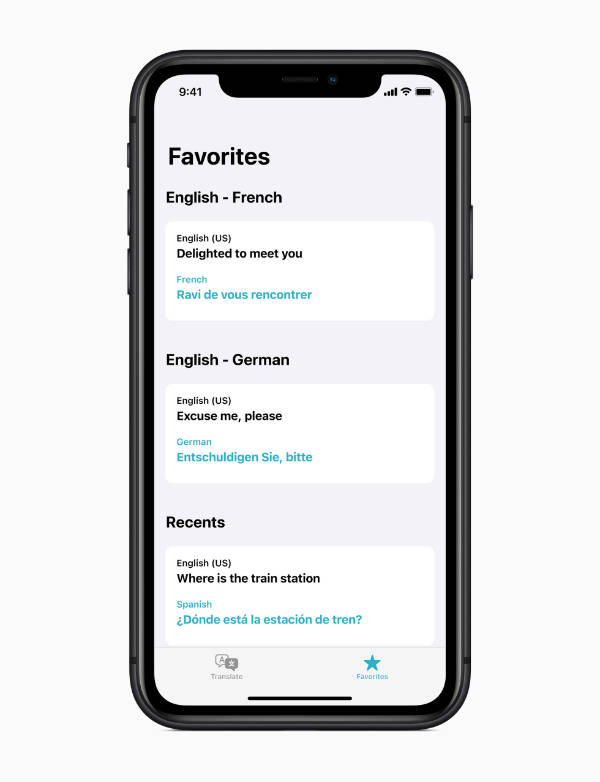 Siri expands his knowledge and answers complex questions with information obtained from the Internet. Keyboard dictation is performed on the device when dictating messages, notes, email and more.
The Home app makes smart home control even easier with new automation suggestions and expanded controls in the Control Center for faster access to accessories and scenarios. Adaptive lighting for HomeKit-compatible lights automatically adjusts color temperature throughout the day, and facial recognition on compatible video bells and cameras uses intelligence on the Apple TV or HomePod device to identify visitors. The Home app and HomeKit are designed to be private and secure, so all information about a user's home accessories is encrypted from end to end.
The digital versions of the car keys offer users a safe way to use the iPhone to unlock and start the car. Car keys can be easily shared using Messaging or disabled via iCloud if a device is lost, and are available today for compatible cars using NFC technology.8
Safari offers a Privacy Report so that users can easily see which website crawlers have been blocked, secure password monitoring to help users detect saved passwords that may have been involved in a data breach and integrated translation for entire pages.
Health has totally new experiences to manage sleep and better understand the audio levels that can affect hearing health. A new health checklist that includes emergency SOS, medical identification, ECG, fall detection and more provides users with a centralized place to manage health and safety resources.10 Health also adds support for new types of data for mobility, health records, symptoms and ECG.
The Weather app keeps users up to date on severe weather events and a new precipitation graph for the next hour shows minute-by-minute precipitation when rain is forecast.11
Apple On and it's the easiest way to get many subscription services from Apple at great value, so customers can choose the right plan for them or the whole family. Customers can sign up for the Apple One starting this fall.
Accessibility features include Back Tap, which offers a new quick way to trigger accessibility gestures, tasks and shortcuts, sign language detection in Group FaceTime and Sound Recognition, which uses intelligence on the device to notify users when the sound of a fire alarm or bell is detected. VoiceOver, the industry's leading screen reader for the blind community, now automatically recognizes what is displayed visually on the screen so that more applications and web experiences are accessible to more people.